Studio Pilates 30 Day Challenge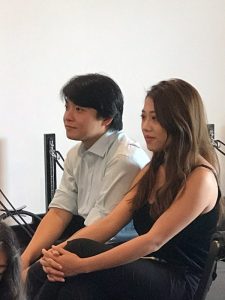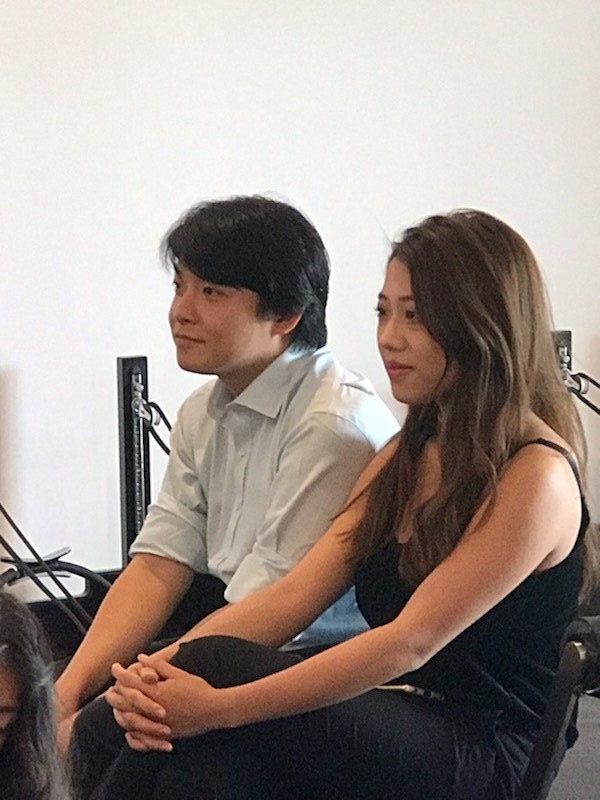 On Sunday 17 March Dr Sam and Allison went to Studio Pilates North Lakes 30 Day Challenge Congratulatory Celebrations, to present the Dedication Award.
This award went to the person that attended every class for the full length of the challenge.
As one of the major sponsors for this challenge, Passion Family Dental North Lakes presented the winner a voucher to receive a free exam, clean and teeth whitening treatment.
Participants worked hard over these 30 days, transforming and reshaping their entire body. Toning muscles, boosting metabolism, flattening abs and strengthening their mental and physical stamina. One amazing lady lost nearly 10kg during this challenge. Talking with those that took part, all highly recommend others to jump on board the next challenge.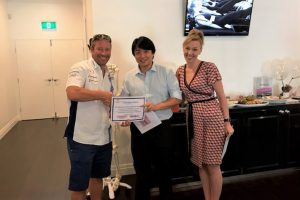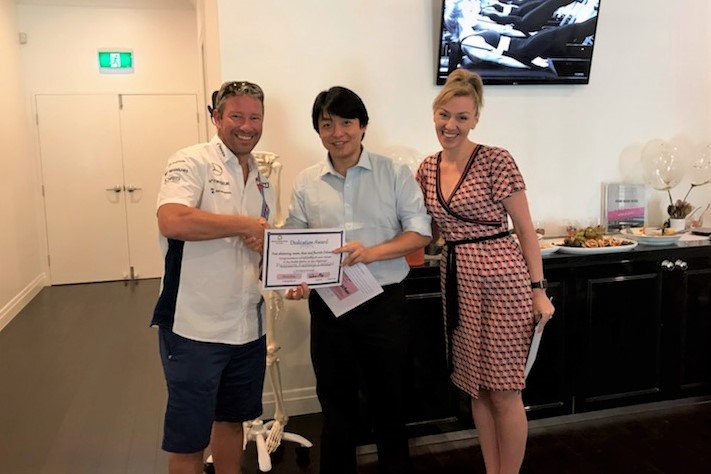 Congratulations to Chris for winning this hard-earned award and also to Melissa for winning the Greatest Transformation Award. Talking with those who attended, it certainly sounds like they all really enjoyed taking part in the challenge and they all highly recommended it to anyone considering doing the next one.
Dr Sam was proud to sponsor this challenge as he encourages everyone to not only look after their oral health but also their overall health. Being a resident of North Lakes, Dr Sam genuinely cares about the health and wellbeing of his neighbours and thanks Cia and her team at Studio Pilates for including us in this challenge.
Visit to Kids Capers Childcare Mango Hill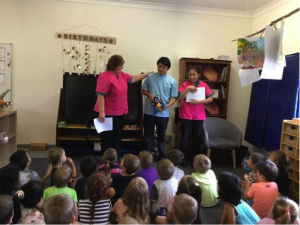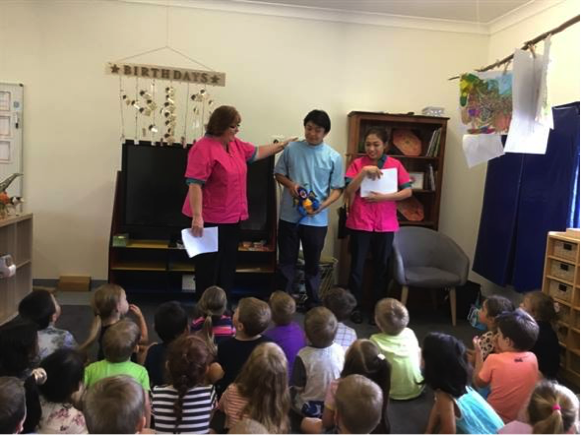 Dr Sam was invited to talk with the gorgeous children at Kids Capers Childcare Mango Hill. It was a real treat for us to show the thirty or so kindy kids how to brush their teeth and how to eat healthy.
It is so important for children to learn at an early age how to look after their teeth. We hope that by going out into the community, and talking with both children and adults, that we can not only improve their oral health we can help break down the barriers that stop us going to the dentist.
So many people put off going to the dentist because they are nervous or don't understand the importance of regular exam and cleans. By chatting with children as we did at Kindy Capers, we hope to start them on the road of a lifelong appreciation, confidence and even eagerness when it comes to visiting their dentist.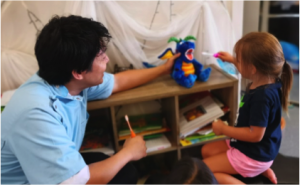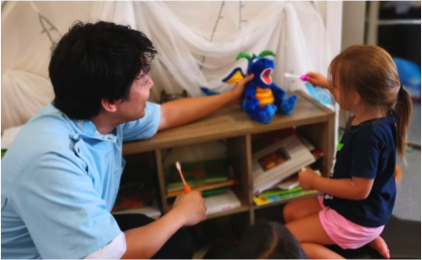 We showed these children, aged three to five years, how to brush their teeth using little circles and how to floss (yes, even children need to floss!).
The children know that you only need a little bit of toothpaste, about the size of a pea, and not the entire tube or the size of a car!
They now understand that they need their mums and dads to help them with their brushing so hopefully brushing time will be a lot easier for their parents. Mr Sparkles, our friendly dragon, was a great help in this lesson and a number of them had fun practicing cleaning his teeth.
We all had fun deciding if different foods and drinks are good or bad for our teeth. The kids were a lot of fun telling us about what they like to eat, and also what their parents like. They know that if they do have something on the 'bad for your teeth' list then they need to brush or have a drink of water to help get the bugs off their teeth. Nobody wants to have dragon breath like Mr Sparkes sometimes gets if he forgets to brush!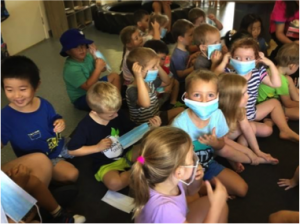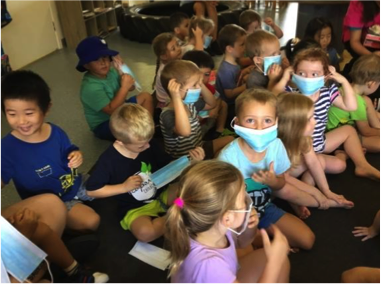 There may be a few aspiring young dentists in this group of children because they all loved wearing masks and gloves like a dentist.
It was hard work trying to put gloves onto that many small hands though! Seeing the expressions on their faces made the effort more than worthwhile.
We truly hope these kids enjoyed our visit and that they learned from it. Our plan is to continue going out into the community and showing everyone that dentists are fun, and that dentists are someone who can help them and guide them to good oral health and beautiful smiles.
If you know a childcare centre or other community group that would like us to visit, please give us a call on (07) 3465 1199 as we would love the chance to share our passion with as many people as possible.
Dr Sam really enjoys reaching out to the community in this way. Being a local resident himself, his goal is to talk with as many residents of Mango Hill and the surrounding areas as possible, helping locals become more aware of the importance of good oral health.
Playgroup Visits
You are never too young to learn the importance of good oral health and Dr Sam, Alison and Melody enjoyed showing the mums and dads at the Embrace Life Playgroups how to look after their babies and toddlers' teeth.
Visiting the playgroups at Mango Hill and Kippa Ring, we were able to talk to the parents about how to care for their children's teeth, right from the moment they are born, and answer any questions they have.
There is so much information available for parents on the internet, and we encourage parents to make the most of this information, but there is nothing like seeing and hearing it straight from a professional.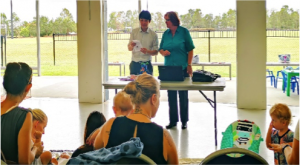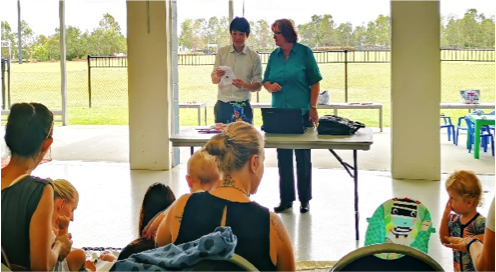 We explained to the mums and dads that before their little ones even get teeth, they need to be helping them learn to take care of their oral health.
By rubbing their gums with a cloth or baby cleaning mitten before teeth erupt, will help the baby become used to someone cleaning their mouth (in a similar way to having a baby wear a headband to get used to wearing a hat).
We spoke to the parents about teething and tooth eruption, and about the habit's children form such as thumb sucking and dummies. A number of mums were concerned about finger sucking and Dr Sam explained that most children naturally stop this habit by the age of four so usually it is not something to be overly concerned about.
The problems arise when the adult teeth come through as finger sucking can cause the teeth to become misaligned. It is important for parents to understand why their child sucks on their fingers or a dummy, it is usually simply for comfort. Some natural tricks to try to change this habit is to offer them a reward or mark their progress on a chart, or to simply distract them.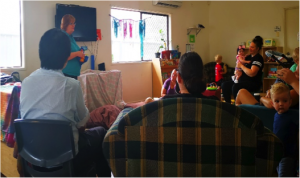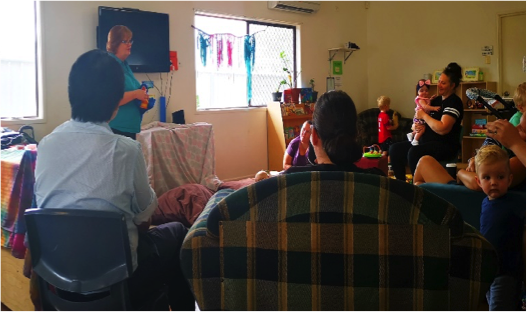 Many of the parents we spoke to were also interested in learning how to help fight against tooth decay. Baby teeth a lot softer than adult teeth so are more prone to decay. If a baby tooth needs to be removed before it is due to fall out naturally, then the adult teeth may erupt in the wrong position.
This makes caring for your babies' teeth more important than many realize. Making sure you brush your child's teeth a couple of times a day and yes, even flossing them, is a good place to start. Parents need to also make sure they have a healthy diet and limit the amount of food grazing that their children do.
It was lovely to see the parents so keen to learn how to care for their babies' teeth; we hope we made the task a little less daunting for them. Dr Sam enjoys sharing his knowledge with others and we hope that by going out into the community and talking to parents and caregivers that his passion for oral health is passed on.
If you have any questions regarding caring for your baby or child's teeth please give us a call on (07) 3465 1199 and we will do all we can to help you. Or if you would like us to give a talk at your group or organisation please don't hesitate to ask.
Dr Sam plans on reaching out to residents of local areas such as Mango Hill, Kallangur, Rothwell, Deception Bay and Kippa Ring, to increase the awareness of good oral health.
It is through his eagerness to share his knowledge, and in this type of community involvement that Dr Sam establishes Passion Family Dental North Lakes as a leader of oral care in our community.