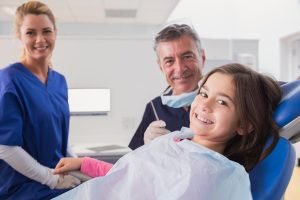 Passion Family Dental North Lakes delivers world-class dental treatments, at reasonable rates, to people residing in North Lakes, Clontarf and the surrounding areas.
Our dental practice is composed of a team of devoted and exceptionally qualified dentists committed to the highest standards of excellence.
Our caring staff will help you with all the details you need to know before, during, and after any procedure.
With advanced equipment, technology, and procedures, we can provide the treatment you deserve.
Our dental clinic is prepared to give patients the best quality dental care.
Our Services
Preventive Dentistry Clontarf
One important element of dental treatment is preventive care.
Preventive dentistry helps you and your loved ones maintain optimum oral health by avoiding diseases and injuries before they take hold in your mouth and cause complications and pain.
Dental examinations, including X-rays and professional teeth cleaning, are the main methods of preventive dentistry.
The dental check-up appointment you book with us allows our dental team to screen your mouth and your teeth; this way, any issues can be easily rectified and monitored.
Our preventive dentistry services include the following:
General Dentistry
Our general dentists provide excellent dental care to achieve a perfect smile.
Our dental clinic is equipped to meet all of the dental needs of the residents and the surrounding areas.
The dental care services we offer are designed to take care of all dental problems, from comprehensive examinations and professional dental cleans to more complex dental procedures. We always have you covered.
Our general dentistry services include the following:
Cosmetic Dentistry Clontarf
Cosmetic dentistry focuses on improving and enhancing the appearance of your teeth.
Our dental team provides high-quality cosmetic dental services and is ready to assist you every step of the way to achieve your desired outcome.
Our clinicians will listen to your needs and expectations and discuss an extensive range of options that will help you achieve a beautiful smile.
Our cosmetic dentistry services include the following:
Restorative Dentistry
Restorative dentistry helps patients restore and maintain oral and overall health.
At Passion Family Dental North Lakes, our goal is always to protect your natural teeth by assisting in repairing and restoring them when needed.
Our restorative dental services include the following:
Emergency Care Clontarf
Our dental clinic provides fast and effective emergency dental care for any patient in pain.
Services that may be required in cases of emergency include:
If you are experiencing severe pain or having a dental emergency, call us at (07) 3465 1199 immediately. We will attend to you with utmost urgency and care.
Our regular hours are from Monday to Friday from 8:00 am to 5:00 pm. For patients needing attention on Saturdays, Sundays, or after hours, call us to set an appointment.
We are located at Unit 4/6 Endeavour Boulevard in North Lakes.
Directions from Clontarf