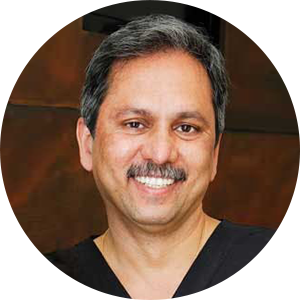 Dr Keshav R Das
Ram Das, known to most as Das, completed Bachelor of Dental Surgery from the University of Bombay in 1979, followed by Masters in Endodontics from the same institution.
He went on to complete his Fellowship with the Royal Australasian College of Dental Surgeons and advanced his education with a degree from the prestigious Goethe University, Germany, in Implants obtaining a Master of Science in Implantology.
He is also a Fellow of the International Congress of Oral Implantologists. Das is an exceptionally skilled dentist with extensive dental experience of more than 40 years. He has diligently served in the Ministry of Health Libya, Indian Navy, and Royal New Zealand Air Force. He was instrumental in setting up Divine Smiles in Nundah, where he worked as the Practice Principal from December 2002 until April 2022 along with his wife Dr Chitra Das.
Das has amassed a wealth of knowledge and experience in dentistry throughout the course of his long and illustrious career. His primary interests are rehabilitation with dental implants, minor oral surgery, and wisdom teeth extractions. Das constantly updates his knowledge and skills by attending various continuing education courses such as the Advanced Implantology courses for complex cases. He is also an accredited member of the Australian Osseointegration Society.
He and his wife Chitra have a daughter who is an Aerospace Engineer, working for NASA and a son who is a doctor, at present training in General Surgery.
Das enjoys various forms of target shooting at the firing range during his spare time. He always loves walking and playing with his adorable dog, Wasabi, when he is not chatting with his little grandson which provides daily entertainment.
More About Passion Family Dental North Lakes
Discover more about Family Dental North Lakes. Visit our About Us page.