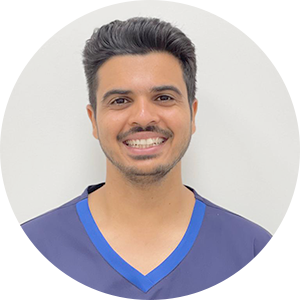 Dr Nishit Soni
At an early age, Dr Soni realised that he is a people person which inspired him to become a dentist, choosing the University of Adelaide to complete his undergraduate specialisation in Dentistry.
Always knowing he wanted to do something hands-on which helped people of all ages feel better, Dr Soni knew that dentistry was the perfect path for him. Dr Soni believes that dentistry is a combination of art and science which he thoroughly enjoys.
After Graduating, Dr Soni chose to work in rural Victoria, in a town called Mildura and served the local community for 7 plus years. Dr.Soni is highly rated and known for being very gentle, painless and caring, and for doing cosmetic dentistry especially porcelain veneers and composite veneers, Root Canal Treatment, and in treating highly anxious patients and children.
He has done cosmetic treatment for other senior dental practitioners, which shows the excellent skill set he possesses for porcelain veneers, and the amount of trust we have in his work. He has a lot of experience in treating children and adults in the chair as well as under General Anaesthesia at the hospital.
Dr Soni is a member of the Australian Dental Association and he regularly attends continuing professional development courses in order to provide advanced and modern dental treatment to his patients.
Dr Soni has chosen to work at Passion Family Dental North Lakes as he loves the North Lakes Community and most importantly the local people.
At Passion Family Dental North Lakes, Dr Soni will be offering the following treatments to our valued patients:
1. Advanced Cosmetic Dentistry – Veneers, Crowns, Bridges, Dentures, Implant Restorations
2. Root Canal Treatment
3. Fillings, Extractions and thorough professional cleans
4. Treating children and adults under General Anaesthesia at the hospital
5. Wisdom teeth extractions
When he isn't crafting smiles in the practice, Dr Soni loves to play and watch cricket, enjoys walks through the rainforest, do HIT Group training, running and meditation.
His favourite place in North Lakes is the boardwalk along Lake Eden and Northlakes Golf Course
More About Passion Family Dental North Lakes
Discover more about Family Dental North Lakes. Visit our About Us page.