6 Tips to Help You Get Ready for Dental Visits in North Lakes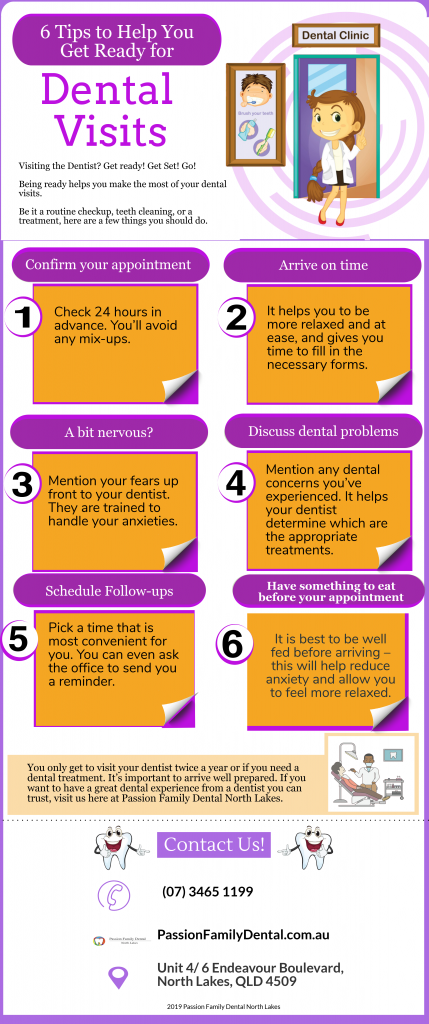 Visiting the dentist? Get ready! Get set! Go!
Being ready helps you make the most of your dental visits.
Be it a routine check-up, teeth cleaning, or a treatment, here are a few things you should do.
#1 Confirm your appointment
Check your appointment time 24 hours in advance. You'll avoid any mix-ups.
When you book an appointment with your dental office, you are setting aside time, not just for you but also for the clinic and the dental team.
It is a valuable thing, which is why mutual respect for each other's time is critical.
The dental team makes the time to prepare for your visit, to attend to your needs, and to complete your treatment. It's time allotted to serve you.
Yes, there are times where emergencies occur, and clinics are willing to accommodate such circumstances.
However, repeated failed appointments or short cancellation notices given in less than 48 hours are a bad reflection on you and don't allow another patient to get their dental needs met.
It gives your dental clinic less time to accommodate another patient who may need treatment.
Confirmation and keeping appointments reflects well on you, but they also give you time set aside to attend to your dental needs and treatment.
Time scheduled is for the dental team to serve you and ensure you're receiving the best dental treatment.
So, be sure you confirm your appointment!
#2 Arrive on time
It helps you to be more relaxed and at ease if you are not having to hurry to your appointment.
If you are a new patient your dentist will need you to fill out some forms, so try to arrive a few minutes early if you can.
You will need to supply health and medication details and contact numbers for your doctor, so make sure you have easy access to this information.
Arriving on time also helps you avoid the hassle of last-minute changes if there are any. It enables you to relax and take your time before consulting with your dentist.
#3 A bit nervous?
Mention your fears to your dentist. They are trained to handle your anxieties.
Dental clinics are cozy and sometimes interactive to help provide a friendly environment for patients of all ages.
You don't need to worry about anything during your dental check-up. Your dentist is ready to back you up!
#4 Discuss dental problems
Mention any dental issues you've experienced. This helps your dentist determine treatments that are appropriate for you.
Any dental concern that is not addressed properly can cause future problems and increased expenses.
#5 Schedule follow-ups
Pick a time that is most convenient for you. You can even ask the office to send you a reminder.
Schedule follow-up check-ups, especially if you have received treatments that need to be checked on, like new dentures, touch ups for whitened teeth, or veneer and crown fittings.
#6 Have something to eat before your appointment
Many patients make the mistake of not eating before an appointment.
You need to keep in mind that sometimes the dentist will need to make your teeth numb, this means that eating after your appointment won't necessarily be easy and it certainly can be messy!
It is always appreciated when patients brush their teeth before their appointment, but if you can't please don't worry, your dentist is quite used to removing food stuck between teeth.
You often only visit your dentist twice a year for your regular exam and cleans, or if you need follow up or emergency dental treatment.
The Passion Family Dental North Lakes Promise!
It's important to arrive well prepared. If you want to have a great dental experience from a dentist you can trust, visit us here at Passion Family Dental North Lakes.
Contact us today!
To book an appointment with your North Lakes dentist, call us on (07) 3465 1199 or book online here.
We are your patient-friendly dentist located at Unit 4/6 Endeavour Boulevard in North Lakes.