Podcast Episode #1: Intro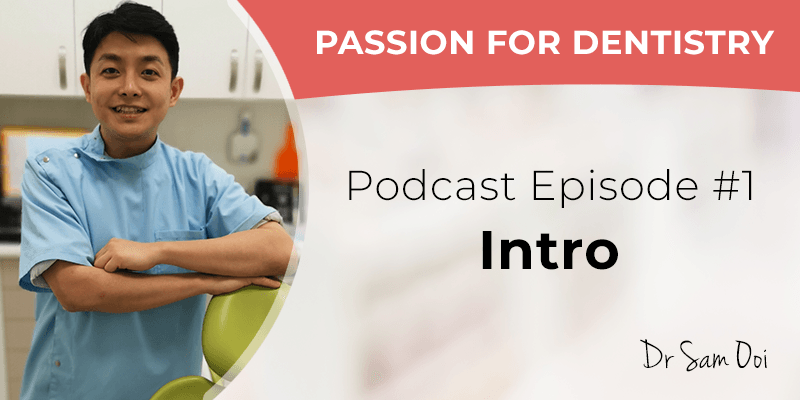 Introduction
In this first chat we wanted to introduce ourselves to everyone and let you get to know us a little bit.
We will also talk about the practice and what you can expect when you come in for a visit and explain what our goals and aspirations are for Passion Family Dental North Lakes.
Podcast Transcript
Melody:
Hi, and thanks for joining us on our first podcast. We are very excited to be able to chat with our patients in this relaxed but informative way. My name is Melody and joining me in this chat is Dr Sam Ooi, the principal dentist and owner of Passion Family Dental North Lakes. Hi Sam!
Sam: Hi, everyone!
Melody: In this first chat we wanted to introduce ourselves to everyone and let you get to know us a little bit. We will also talk about the practice and what you can expect when you come in for a visit and explain what our goals and aspirations are for Passion Family Dental North Lakes.
Sam's introduction
Melody: Let's start with letting you get to know Dr Sam a little bit better. Sam, you did your study in Adelaide, what made you decide to move to North Lakes and set up a practice here?
Sam: I had family living up here and wanted to be closer to them. I loved Adelaide, it is such a beautiful city, but the weather here in Queensland is so much nicer! Living in the Mango Hill and North Lakes area myself I liked the idea of working locally and helping people who I feel are not just local residents, they are also my neighbours.
Melody: Kallangur and North Lakes is certainly a lovely area. Now I know that in your spare time you are always thinking of ways to improve the practice, but you are also an avid reader and have a bit of an artist's eye.
Sam will probably be a bit shy to admit it himself but he is also a talented painter. When you come into the practice you will see some of his and Alison's artwork, Alison is our business manager and also one of our dental assistants. I guess there is a certain amount of artistry in dentistry so it does make sense that you can also paint gorgeous pictures.
Sam: Thanks Melody, I find painting a way to relax and forget about the world for a little bit. Let's talk about you.
Melody's introduction
Melody: Okay, what should I tell everyone about me? I am Sam's dental nurse and also the practice receptionist, I have been dental assisting since 1984 – please don't do the maths and work out how old I am!! I think dentistry is in my blood, I couldn't imagine doing anything else.
I grew up in Redcliffe so consider myself a local and still live close by. I am married with two children, bursting for the day I become a Nana! My husband and I have a little campervan that we like to escape on weekends in.
Alison's introduction
Now Sam, we also mentioned Alison before. We should let everyone know that Alison is also an important part of our team and you will see her too when you come into the practice. Alison, is the one that keeps the practice running smoothly, and helps keep Sam and I organised. Alison may come across as being a little shy and quiet but she is supper efficient and an absolute dynamite behind the scenes. We couldn't do this without her!
Values and Goals for the practice
Sam, I think it is important to let everyone know our dream for the practice. Every time a dentist sets up a new practice, they will say things like 'my practice is different from all the others' but what is about Passion Family Dental that really does make it different from the others?
Sam: I have worked in a number of other practices and wanted my practice to be a place that was more part of the community, a practice with a real heart and warmth, not just all clinical and numbers.
Melody: I totally understand that, it is probably the reason why I enjoy working here more than any other practice I have worked in. And they are just not words you are saying, you really mean it when you say you want to be a part of the community.
In the time we have been open we have visited a number of local businesses, childcare centres' and attended events, where we go out into the community and chat with residents about their oral health. We understand that there are many reasons why people put off going to the dentist, one of the main ones being fear, so we have gone out to them, to show that we are not the scary people their imagination tells them we are.
We have helped people breakdown their fear barriers so they can look at getting the help they have been too frightened to get. We have visited childcare centres and playgroups to help parents and children learn about how to look after their teeth. All of these visits have been free of charge! I don't know of any other dentist that gives so much of their time so freely to others.
Your generosity and genuine care for others also shows every day in the practice. I see the time you take to make our patients feel relaxed and the way you explain everything to them without putting the slightest pressure on them to have any treatment.
When a patient leaves the practice after an appointment, Sam always asks me "was the patient happy?", the usual dentist would ask "did they pay?" But not our Sam. He only wants his patients to be happy with the treatment and service they receive, it really isn't about the magic dollar to him. He is a very rare man in todays world.
Sam: It is important for me to know that our patients are happy with us!
Melody: All our patients love you, Sam. Look at the wonderful reviews they have done for us on Google and Facebook!
Sam: We have been really lucky to have such lovely patients.
Melody: I believe that you only receive what you give. Our patients appreciate the treatment we give them, they can see how we are different to other practices within the Mango Hill, Kallangur, Redcliffe area.
What to expect when patients visit us
I guess that leads us to what patients can expect when they visit us.
Patients can expect to be treated as a person and not just a number.
Sam: I treat them like family
Melody: That's a great way to put it, and also very true. We like our patients to feel at home when they come in. That they can relax and be comfortable. We never put any pressure on our patients to get treatment done, we take time to explain what is happening in their mouth and let them decide what treatment is best for them. We take our time with our patients and never rush through treatments.
So, when patients come in for their appointment, whether it's they are a new patient or an existing one, you can rest assured we will take care of your every need.
Conclusion
I guess our moto says a lot about us – "your comfort is our top priority"
As long as our patients are comfortable and happy then so are we.
There is nothing more rewarding for us then to see a patient who was once very nervous about going to the dentist, for whatever reason, actually look forward to coming in for their next visit. Or someone who had been covering their mouth because they didn't like their smile, walk out of the practice proudly smiling for all the world to see.
Sam, Alison and I all love our jobs and are proud of the work we do and what we are achieving in the practice and in the community. If you have any questions for us or would like to know more about the work we do in the North Lakes, Redcliffe area, then please feel free to give us a call.
Thanks for listening to us, I hope you feel that you got to know us a little better, we look forward to seeing you in the practice one day!