Dental Health Tracking Tips from Passion Family Dental North Lakes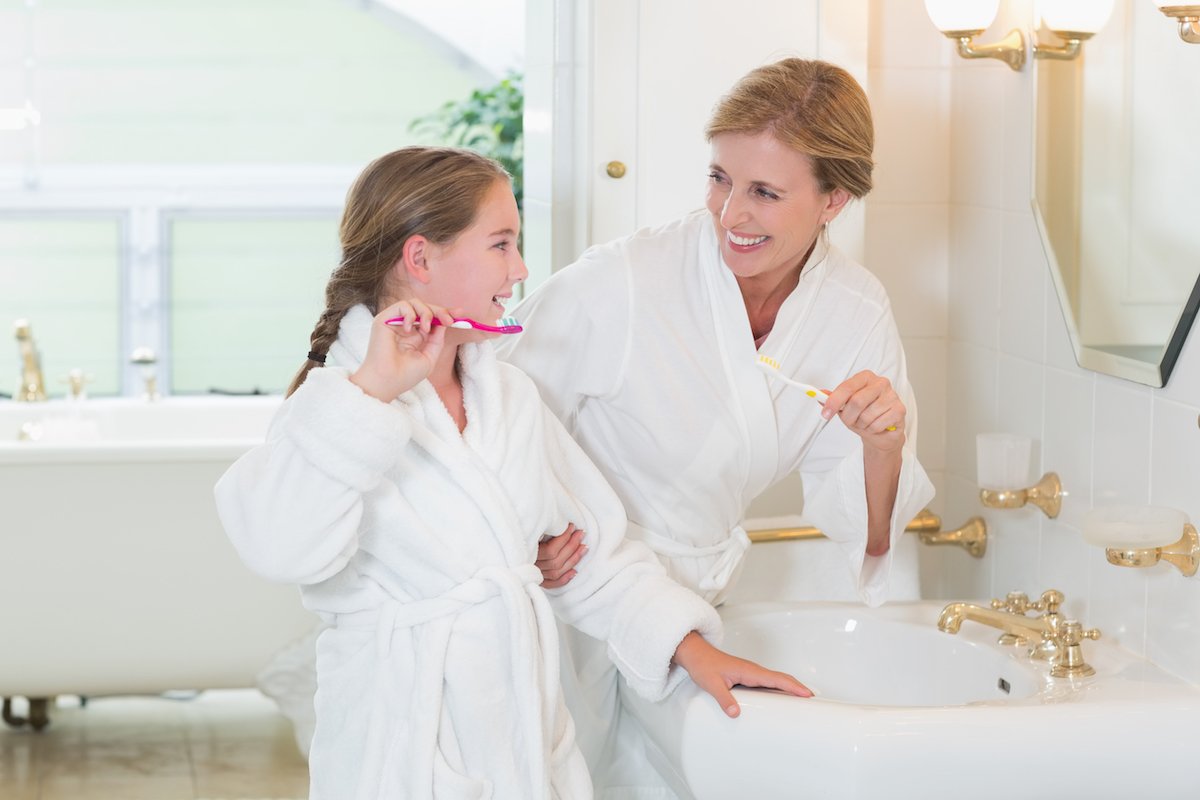 While many Australians are unaware of it, the Australian Dental Association has selected the first full week of August as Australia's Dental Health Week.
This year, that week will be celebrated from the 5th to the 11th.
Passion Family Dental North Lakes suggests you take this week as a chance to evaluate the oral hygiene and dental health of yourself and your loved ones.
Dental Health Week Celebrations at Passion Family Dental North Lakes
The team at Passion Family Dental North Lakes are making Dental Health Week all about having fun as well as educational for patients.
Come down to the practice to see the colourful tree we have decorated in our carpark – this tree must be seen to be believed!
We have also set up a display showing how much sugar is in some of our foods and are conducting an experiment on how different drinks effect the enamel on our teeth.
We also have free toothbrushes and toothpaste to give to the kids!
Dental Health Week Theme
This year, the theme is "How's Your Oral Health Tracking", in an attempt to make us consider if we're 'on track' with our oral hygiene and think about how we keep track of our oral hygiene habits.
There are two age groups in which this focus is particularly vital, the young and the old.
The young need help determining what track they should be on, and how to keep track of their progress, while older Australians need to stay on their oral hygiene track, despite the effects age can have on it.
For these age groups, it is doubly important that we pay attention to make sure that good oral hygiene is practised, and good oral care is given.
Dental Health Week and Children
Children can be disorganised and spontaneous, two traits that aren't always compatible with great oral health.
But, Dental Health Week is an excellent time to introduce your children to the importance of dental health.
Take advantage of the ADA's Dental Health Week website and download a colourful, printable poster with relevance to children.
For instance, two posters are focusing on the dangers of sugary and acidic drinks like soda pop. And an incredible 73% of young Australians (14-18 years) regularly consume too much sugar!
The information also contains great hints for parents:
Introduce oral hygiene to your child by brushing their gums even before any teeth are present.
Spit out extra toothpaste, and don't rinse the mouth with water.
Don't use an excess of toothpaste.
Make brushing amusing! Play a song, video, or use an appropriate smartphone app to keep your child brushing for two minutes.
Introduce the dental office early. Your child should visit Passion Family Dental North Lakes by age two, or when the first tooth comes in.
Use affirmative language at the dental office, praising your child's patience, listening skills, and ability to follow instruction.
Most important, by planning and tracking your child's oral hygiene and dental condition, you are giving them a model of oral health that will serve them well throughout their lives.
Track their progress on a calendar or chart, and reward them as important goals are reached.
Dental Health Week and Seniors
As we get older, decay, infections and bacteria in the teeth, gums and mouth can create severe problems that lessen overall health.
This means that losing track and control of oral hygiene and health can lead to dire consequences.
Dry mouth is a normal part of aging and is often made worse by the fact that many medications for older patients come with the side effect of reduced saliva production.
Saliva washes debris away, protects against tooth decay and controls bacteria. So, older folks need to keep an eye out for dry mouth.
Gum disease becomes more likely as we age, and studies have demonstrated a link between gum disease and heart disease.
Increase in bacteria level has been linked to more significant risks of pneumonia and diabetes.
Oral cancer rates rise as we age. Nothing is as effective at catching oral cancer early as regular dental check-ups!
Regular hygiene becomes more complicated. As we age, our habits change and our manual dexterity decreases.
If we don't stay on top of our brushing and flossing, it is easy for oral health to decline.
In addition, some of us lose our easy transportation, making it more challenging to get to the dentist's office.
Finally, retirement may mean less money or less insurance, making it economically more difficult to get the dental visits we need.
Common memory problems of old age, such as dementia, can make it more difficult to track of oral hygiene.
A loved one or carer may be required to help keep track in such cases. So, keep on tracking!
The Passion Family Dental Promise!
At Passion Family Dental North Lakes, we believe high-quality dental care can only be achieved by placing our patients first.
Dr Sam and our talented staff offer preventative, restorative, general, cosmetic, and emergency care at the highest possible level.
We have free parking, explicitly allocated for our patients is available on-site, as well as on-street parking
We are wheelchair friendly!
North Lakes dentist also serves local communities in Mango Hill, Deception Bay, Griffin, Murrumba Downs, Redcliffe, Narangba, Petrie, Burpengary, Bracken Ridge and Morayfield.
Free Kids Dental
Check your kids eligibility for $1,052 in dental benefits to use on selected dental services.
To book an appointment, call us on (07) 3465 1199 or visit us at Unit 4/6 Endeavour Boulevard in North Lakes.