Why a Visit to Passion Family Dental North Lakes Brings Smiles!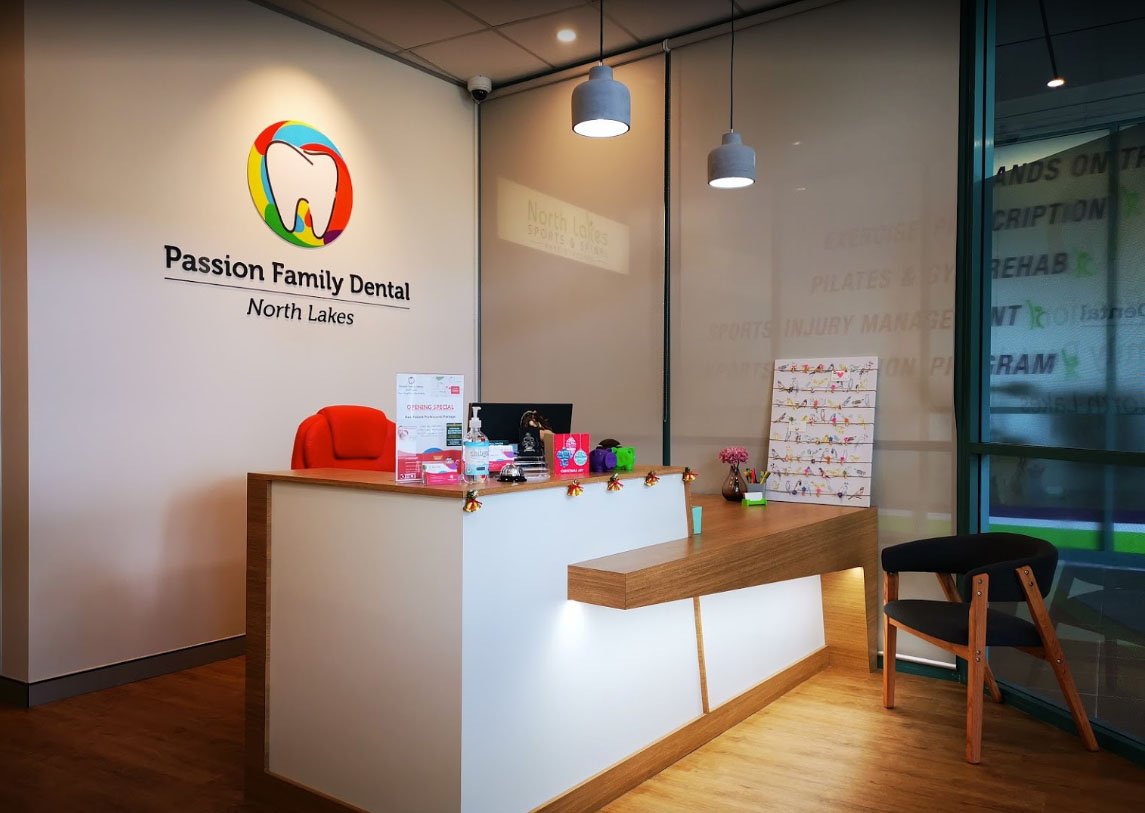 Very few of us look forward to trips to the dental practice. It takes time out of our day and means sitting in a dental chair – for some of us, the experience can lead to anxiety or phobia.
But dental care is a necessity for overall health, which is why Passion Family Dental North Lakes works hard to make your experience with us a happy one.
We concentrate on making visits to our office enjoyable, efficient, and comfortable.
From the first contact when making inquiries or booking your appointment and through your treatment, we have a streamlined and pleasant process in place to allow you to control your own dental care.
Let's take a look at the process.
Before Treatment
The first great thing about visiting us is our convenient location. Our clinic is at 4 Sibley Street, next to Fort Specialty Coffee. Parking is available at the front of the clinic. Public transportation is also nearby.
The second great thing is our website – it can be a source of great information. For instance, take a look at our gallery to check out our spacious, clean, and comfortable facilities.
The website also contains detailed descriptions of our treatments (which are also listed below) as well as descriptions of our safety and cleanliness procedures, which are world-class.
Finally, the website also has a list of various promotions, some of which may be useful for you.
When you enter our office, you will be greeted by our friendly staff, and they will introduce you to any paperwork that may need to be filled out.
Our Team
Our principal dentist is Dr Sam Ooi, a graduate of The University of Adelaide, one of the Big Five dental universities in Australia.
Our dental nurse, Melody, started dental nursing in 1984 and brought a wealth of experience to our practice.
Alison is our friendly dental assistant.
Passion Family Dental North Lakes Treatments
Passion Family Dental North Lakes offers a full range of services from preventative to emergency dentistry.
Preventive and General Dentistry
Restorative Dentistry
Cosmetic Dentistry
Emergency Care
For any of our treatments, it is reassuring to know that our practice is equipped with the latest in sterilisation technology.
We are up to date with our equipment (including maintenance and calibration) as well as our methods and techniques.
Proper infection control procedures are always followed, and whenever possible single-use instruments are used and are disposed of safely.
Instruments are sterilised in an autoclave for your safety. These instruments are also stored using safeguards against exposure to any contaminants.
The safety of our staff and patients is critical, so all staff wear personal protective clothing, and are fully trained in the latest techniques and products of infection control.
After your Treatment
After your treatment, a different kind of care begins. Our staff will share with you any advice, technique, or materials you need for aftercare or oral hygiene. They will also help you arrange your next appointment.
We can also help you with payment. We are preferred providers for HCF, NIB, Qantas Health Insurance, AAMI Health Insurance, Apia, Suncorp Health Insurance, TAL, and Westfund.
For other patients, we offer payment plans like Afterpay, which break down your payment into four smaller payments across time. You must have a payment card, be over 18 years of age, and be an Australian resident.
Queensland Dental Vouchers
Passion Family Dental North Lakes welcome patients using the Queensland Government Dental Vouchers.
Finally, as a service, we contact you by SMS or phone, the day prior to your appointment. We want to make it as easy as possible for you to develop the habit of visiting us, as that is one of the key things you can do to keep your visits quick and comfortable.
The Passion Family Dental North Lakes Promise!
At Passion Family Dental North Lakes, we believe high-quality dental care can only be achieved by placing our patients first.
We have free parking, allocated specifically for our patients available on-site, as well as on-street parking
We are wheelchair friendly!
North Lakes dentist also serves local communities in Mango Hill, Deception Bay, Griffin, Murrumba Downs, Redcliffe, Narangba, Petrie, Burpengary, Bracken Ridge and Morayfield.
New Patient Professional Check-up and Clean
Adult Check-up + Clean for $178 only. (Includes: Exam, Scale and Clean, Fluoride, two X-rays.)
To book an appointment, call us on (07) 3465 1199 or visit us online here.
We are located at Unit 4/6 Endeavour Boulevard in North Lakes.