Passion for Oral Health – As featured in the local newspaper "North Lakes Times"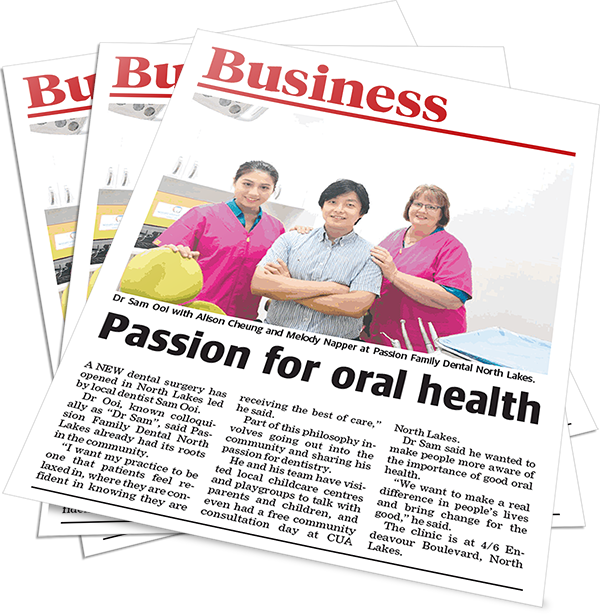 The opening of Passion Family Dental in North Lakes has not gone unnoticed in the community.
On Thursday, May 23rd, The North Lakes Times published an article recognizing the grand opening with the title, "Passion for Oral Health."
The article can be found in the Business section of the North Lakes Times, on page 11.
The article highlights three important aspects of Passion Family Dental: First the passion for dentistry shared by all member of the Passion Family Dental team; Second, an introduction of Passion Family dentist Sam Ooi, better known to his patients and staff as "Dr Sam", and; Third, the strong commitment that Passion Family Dental feels towards its community.
The article is headed with a picture of Dr Sam in his brand-new, clean surgery, which features spotless, comfortable settings and modern technology.
Dr Sam is a graduate of The University of Adelaide, one of the five most prestigious dental universities in Australia.
The article notes that Dr Sam already has roots in the North Lakes community, and strives to give his patients the best possible care.
Dr Sam says, "I want my practice to be one that patients feel relaxed in, where they are confident knowing they are receiving the best of care."
Consistent with this caring, community-based approach to dentistry, the Passion Family Dental Team (introduced below) has taken its message to the public.
The team has visited local playgroups and childcare centres to bring their message of dental health to local parents and children.
The Passion Family Dental Team even offered a free community consultation day at CUA North Lakes!
Dr Sam emphasizes the importance of spreading awareness of the critical importance of good oral health.
"We want to make a real difference in people's lives and bring change for the good," the Dr. concludes.
The Passion Family Dental Community Commitment
The Passion Family Dental commitment to the community is based on several key approaches.
Passion Family Dental cares. Passion Family Dental treat their patients like family, valuing and respecting their trust, and promising to honour it.
Passion Family Dental understands your fears. Passion Family Dental understands that visiting a dentist can bring anxiety, and they promise to work with any such issues.
They love working with patients of all types, including nervous patients, who can often be among the most rewarding.
Passion Family Dental takes time. Passion Family Dental takes time to listen and to understand patient concerns, needs, and wants.
Appointments are never hurried or stressful, and Passion Family Dental takes the time to explain conditions, issues, and treatment options to all patients.
Passion Family Dental puts you in control. Passion Family Dental never pressures patients into treatments.
Instead, they give advice, consultation, and pros and cons, for all possible treatments.
Passion Family Dental has built a comfortable, calming practice. The Passion Family Dental practice is designed to look and feel like somewhere you can be at ease – perhaps even enjoy yourself.
Passion Family Dental is clean and professional. Passion Family Dental meets (and often exceeds) the standards of the Australian Dental Association.
The surgery practices strict infection control and cross-contamination protocols and is equipped with the latest sterilization equipment.
Equipment is up to date, well-maintained, and precisely calibrated.
Passion Family Dental only uses highest-quality materials, so their work is not only aesthetically top-notch but extremely durable as well.
Passion Family Dental clinicians are unhurried, taking the time required to provide our patients with safe, effective, attractive, and enduring dental treatment.
The Passion Family Dental Guarantee:
Passion Family Dental promises to provide dental service that patients will be happy and confident with.
Our goal is that every patient that walks out our door leaves smiling and feeling satisfied, and looking forward to their next visit.
More about our staff
In the photo at the top of the North Lakes Times' article, Dr Sam is flanked by Dental Nurse, Melody Napper and Dental Assistant Alison Cheung.
Melody has 35 years of dental nursing experience and has seen many advances in the dental industry over her career.
She is married with two children, which she believes help give her the warmth, understanding, and compassion needed to be a great dental nurse.
She is excellent with nervous patients, and her goal is to have every patient leave Passion Family Dental North Lakes with a beautiful smile and looking forward to their next visit.
Alison is friendly, gentle and caring, priding herself on doing everything possible to be sure that our patients receive the most comfortable dental experience possible.
The Passion Family Dental staff understand that each patient's circumstances are unique, and they look forward to serving you.
They welcome you and your family to visit their modern, state-of-the-art dental practice.
And remember, pick up a copy of the Thursday, May 23rd, North Lakes Times, go to page 11, and take a look at the article!
Call (07) 3465 1199 or visit us at Unit 4/6 Endeavour Boulevard in North Lakes.