Useful Gift Ideas to Make Your Dad Smile on Father's Day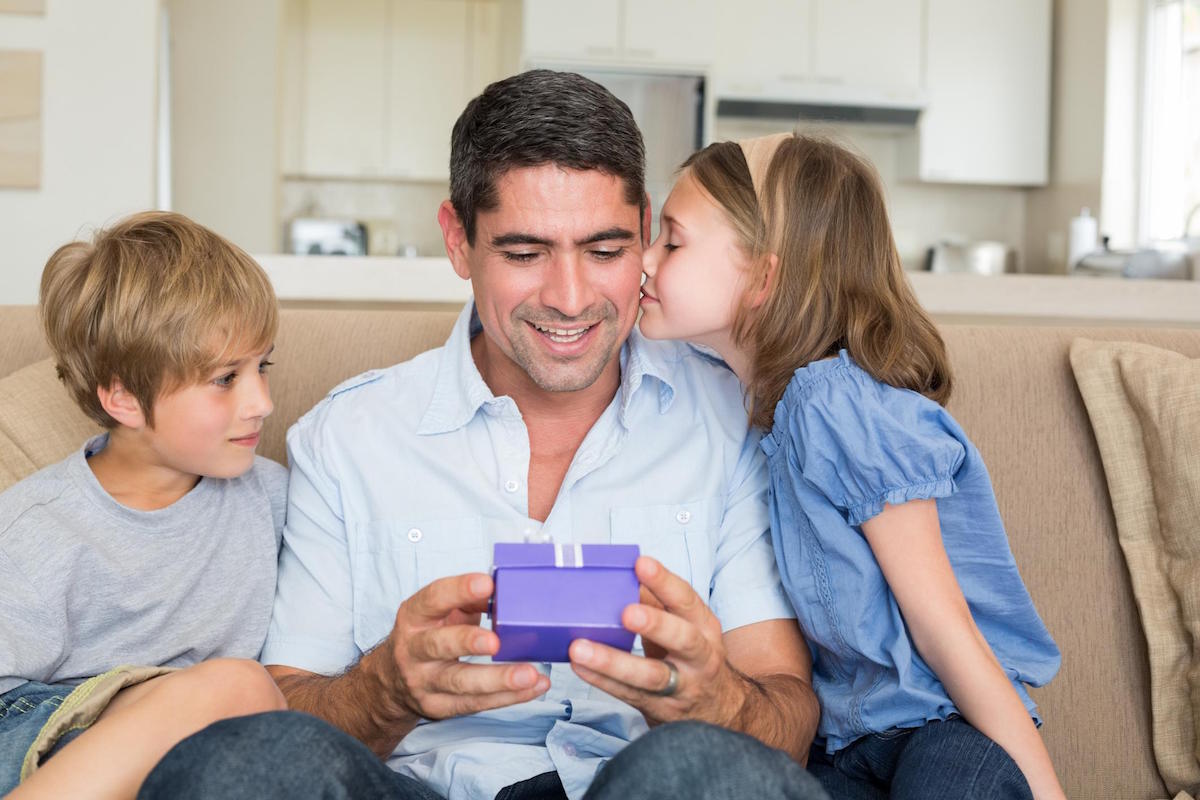 Australia recognises all its wonderful Dads by wishing them a Happy Father's Day.
In recognition of this special day, Passion Family Dental North Lakes wants to do our part to help you recognise your Dad by suggesting you give him a practical, thoughtful, and unexpected gift.
Don't settle on another tie, coffee cup, or BBQ gear – instead, give your Dad something that supports his dental health!
Why is this a good idea?
Compared to women, men are:
Less likely to brush their teeth twice daily
More likely to suffer from gum disease
More likely to suffer from oral cancer
So do the right thing – go dental for Dad!
Here are our suggestions, broken into convenient categories:
Techie gifts
UV sanitiser. This cool tool gives your Dad the peace of mind that his toothbrush is protected from nasty bacteria that might be lurking about the bathroom and trying to get into his mouth.
Bluetooth toothbrush. The latest toothbrush technology is a Bluetooth toothbrush that allows the toothbrush to communicate with Android and iPhone phones, helping your Dad track his oral health.
A cool app. If your Dad isn't the type who'd want a Bluetooth toothbrush, he might want to have a general dental app.
These creative and fun apps (also suitable for mom!) keep track of dental health, make sure Dad brushes long enough, keep up to date on when toothbrushes need to be replaced.
Water-flosser. Flossing is extremely important, but it's also kind of tedious and difficult. The Waterpik is a cool technological alternative to normal floss.
They come with different tips, can be adjusted for water flow, and are great for dads with arthritis or anything else that can harm manual dexterity.
A sporty gift
Is your Dad a weekend warrior? If so, the perfect gift might be a customised mouthguard.
For both sports and exercise, a custom mouthguard from Passion Family Dental North Lakes helps protect the jaw from injury, teeth from cracking or being knocked out, and the brain from a concussion.
The important thing here is to be sure that you DO NOT purchase an OTC (over-the-counter) mouthguard – these are not customised for your Dad's mouth, and they do not protect nor perform as well as a customised version. Learn more here.
The busy Dad
Dads often have a lot to do, between family and work responsibilities. This can mean they are in the car a lot, far away from their toothbrush and toothpaste.
Make sure your Dad doesn't neglect his oral health while freeway flying by giving him a travelling dental kit. This kit can also be convenient for Dads who camp.
You can get premade kits in your local pharmacy or online, or you can put together a DIY kit customised to your Dad's particular condition.
Here's what Passion Family Dental North Lakes suggests including:
Toothbrush and Floss. This is pretty obvious!
The phone number to Passion Family Dental North Lakes – we're here to help with treatment and advice, even if Dad is on the road (07) 3465 1199.
Absorbent pads. This is useful for dabbing things on, creating a barrier, and absorbing saliva or blood.
Saline solution. Excellent for cleaning and rinsing.
Dental wax. Useful for chipped teeth or to temporarily replace lost tooth fillings.
Topical pain reliever. An OTC produce or clove oil.
OTC pain medicine. Be sure to follow the instructions on the label.
The gift card
We offer several cosmetic dentistry treatments your Dad might like for improving his smile, and if you can't afford all of a treatment cost, consider a gift card that works towards a treatment.
Teeth whitening. Some of the things dad loves (coffee, tobacco) can stain his teeth. Give your Dad the gift of a whiter, brighter, smile.
Dental veneers. When placed on the front of teeth, these thin porcelain "shells" that look toothlike but even better can hide imperfections in a smile.
White fillings. These fillings replace unsightly or aged amalgam or metal fillings. They are mercury-free and look undetectable in your smile.
If Dad has damaged or missing teeth, he might like some of our restorative dental treatments. We can repair issues, including cracks, breaks, or lost fillings.
We replace missing teeth with dentures, dental bridges, or dental implants, depending on what is best for him. Not sure where to start?
Maybe purchase Dad a gift card to receive a comprehensive examination and professional clean?
The Passion Family Dental Answer!
At Passion Family Dental North Lakes, we believe high-quality dental care can only be achieved by placing our customers first.
We have free parking, exclusively allocated for our patients available on-site, as well as on-street parking.
We are wheelchair friendly!
To book your Dad an appointment, call us on (07) 3465 1199 or visit us online here.
We are located at Unit 4/6 Endeavour Boulevard in North Lakes.