Dental Implants vs. Dentures: Which is Suitable for You?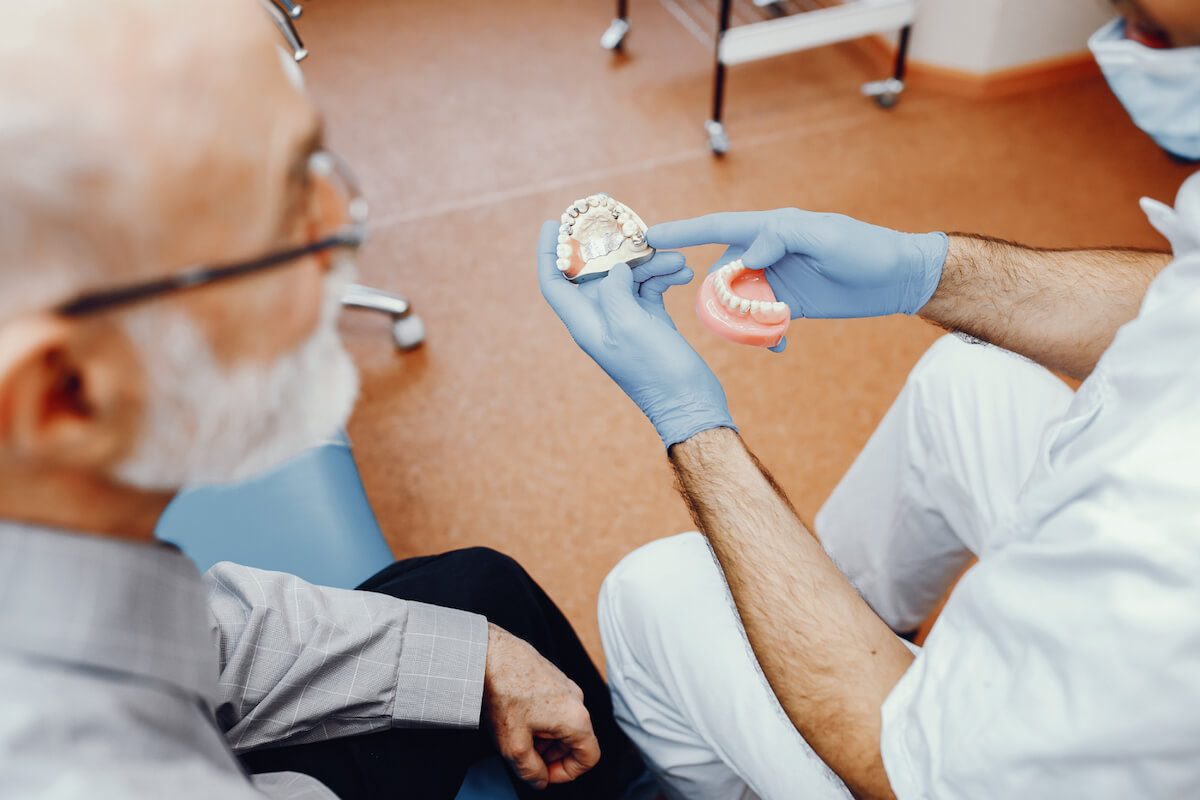 It's natural to be concerned about tooth loss.
Dentures and dental implants are two of your restoration alternatives.
But how can you tell which is most suitable for you when there are many variables—from look to feel to pricing and more?
Here are all the key differences to help you choose between dentures and dental implants.
What are Dentures?
Dentures are sometimes called 'plates' or 'false teeth'. They are artificial teeth and gums that may be removed and reinserted into your mouth to replace lost or damaged natural teeth and help restore your smile.
If you've lost all or some of your natural teeth, replacing them with dentures will benefit your appearance and health because they are natural-looking and more comfortable.
Pros and Cons of Dentures
Pros
Dentures are less expensive than implants.
Contrary to implants, which need to be anchored to bone, dentures can be inserted in patients who have lost bone and gum tissue.
Denture fitting is a non-invasive process. Additionally, dentures do not require the drilling into the bone that is part of the implant procedure.
Dentures are made relatively quickly, requiring only four dental visits.
Cons
As your face and gums the structure of change with age, adjustments or replacements may be required.
Dentures can be uncomfortable and take some getting used to, especially on the first day of wearing them. You could have increased salivation, trouble chewing, and difficulty speaking.
Dentures will require everyday maintenance just like natural teeth do. Infections around the mouth and gums may develop if dentures aren't correctly maintained.
What Is a Dental Implant?
A dental implant is a titanium device inserted into the jawbone, similar to a tooth root, to replace a missing tooth.
Implants replace single or multiple teeth, supporting crowns and dentures. They also help maintain the jaw structure, preventing a sunken facial appearance. They are similar to natural teeth and can last a lifetime.
Dental Implants Procedure
To acquire an implant, there are typically three stages:
The implant is carefully inserted into the jawbone by the dentist.
An implant's strength comes from the new bone developing around the implant surface and securing it. This process is known as osseointegration. Osseointegration is a gradual process that involves "fusing with the bone." Before the implant's restorative phase (placement of prosthesis teeth), some patients may have to wait until the implant has been fully integrated, which could take 2-6 months.
Once the osseointegration has reached stability, the restorative phase (placement of prosthesis teeth such as a crown, implant-supported bridges or implant-retained denture) can be carried out by Your North Lakes dentist. In the interim, your dentist may provide you with a temporary crown, bridge or denture to help you eat and speak properly until the permanent replacement. The crown, bridge or denture will be made to have the same size, shape, colour, and fit as the rest of your teeth.
Before any of these steps are taken, your dentist in North Lakes will conduct an initial consultation, including X-rays and study models. A detailed treatment plan will be presented after thorough analysis and research.
Is Dental Implants Right for You?
In general, you might benefit from dental implants if you:
are missing one or more teeth
do not have illnesses that might interfere with bone healing
over 18 or has stopped growing
have the sufficient bone structure to secure the implants
have good gum health
are unable or do not like the idea of wearing dentures
are a non-smoker or ex-smoker
Choosing Between Dental Implants and Dentures: Some Things to Think About
The best option when picking between dental implants vs dentures depends on each person.
Durability: Dental implants that are taken care of properly can last a lifetime.
Oral hygiene: Dentures must be cleaned daily, whereas implants can be kept clean simply by brushing and flossing.
Long-term dental health: Implants help to preserve bone and reduce gum tissue shrinkage, lowering the chance of tooth loss.
Improved appearance: Implants look and operate naturally, like your own teeth, whereas dentures might feel cumbersome.
Restore Your Smile at North Lakes
Passion Family Dental North Lakes team can assist you if you require tooth replacement. We can help you weigh your alternatives and determine what suits you.
Passion Family Dental North Lakes is your friendly, family-orientated dental practice. We believe that the only means to provide dental treatment of the highest quality is to put our clients first.
Call (07) 3465 1199 or visit our office at Unit 4/6 Endeavour Boulevard in North Lakes.